Vukajlović Dejan, MD, PhD. Germany
Atrial fibrillation (AF) is the most common arrhythmia found in patients with mitral valve insufficiency. It could be treated by catheter ablation after or during mitral valve repair surgery.
Atrial fibrillation (AF) is the most common heart arrhythmia. Fast and irregular heartbeats characterize it. Weakness and dizziness decreased effort tolerance, shortness of breath during exercise, or rested dyspnea are common symptoms in AF. Diagnosis is made upon typical ECG finding, picture 1.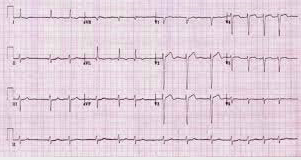 Picture 1.
Atrial fibrillation increases the risk of left atrial thrombosis. Such a cloth could detach from the atrial wall and eventually embolize in cerebral circulation resulting in a stroke. In one-third of AF patients, heart failure could develop as well. Anyway, patients with AF experience reduced everyday activity and inferior life quality. Although frequently present, along with other heart diseases, AF could develop regardless of a heart function or some non-cardiac organ failures.
The left atrial area around the pulmonary veins confluence is most frequently responsible for the onset of AF. If no associated heart condition is present, such an AF could be simply treated by so-called pulmonary vein isolation or electrical catheter ablation, picture 2. However, the procedure itself is not an option in the presence of structural heart disease.
Picture 2.
AF is most frequently associated with mitral valve diseases. MV valve conditions, such as mitral leaflet prolapse, results in regurgitant blood flow back into the left atrium that increases the intra-atrial pressure and eventually provokes the AF. In the number of patients, mitral valve repair surgery itself will treat the AF as well. In advanced and long/lasting AF, catheter ablation during the operation and left atrial appendage closure is necessary.
Unfortunately, AF persists, reapers, or has a new-onset in some patients after the surgery. The success of AF treatment in these patients depends on symptoms severity, left atrial size, and arrhythmia duration. In those with significant symptoms, small left atria, and recent AF onset, restitution of ordinary – sinus heart rhythm is achieved by anti-arrhythmic drugs, DC shock, or catheter ablation. In cases of long-lasting AF or without the symptoms, we decide to treat AF rate control rather than AF itself. Patients with AF have to take so-called "blood thinners" to decrease the stroke risk.
Long-lasting, high heart rate AF results in left ventricle failure and dilatation along with mitral insufficiency new-onset or reappearance. Those two conditions are interconnected and enhance each other by a positive feedback mechanism. A successful catheter or medical AF treatment could restore left heart function and mitral valve competence as well.